Autotoys All HONDA Meet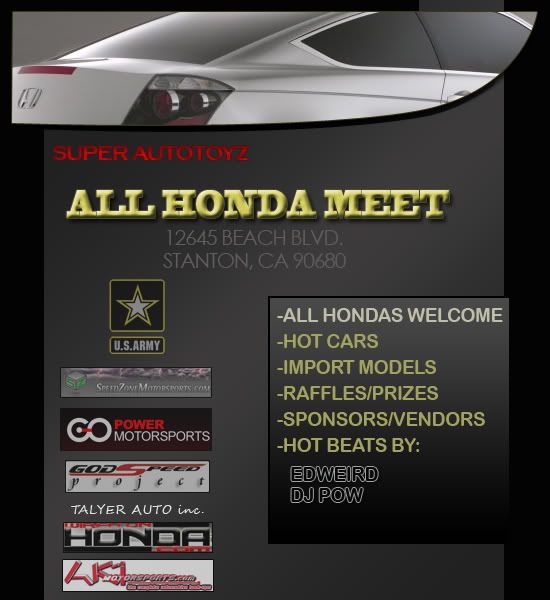 Autotoys All HONDA Meet
It's that time of the year again. Around this time last year,
we hosted a meet for 8th gen civics. The turn out was almost
a hundred 8th gen civics came out.
Now we are aiming for more. So all HONDAs are welcome. This
will be a sponsored event. There will be vendors, music/DJ and
models.
We hope to get the same amount of support (or even more)
from the people of 8thcivic. The list of vendors will be updated
as we are still trying to confirm the attendance of prospected
sponsors.
As of this writing the sponsors are:
AK1 Motorsports
Speedzone Motorsports
Talyer Auto Inc.
US Army
Godspeed Project
WiredOnHonda
Go Power
WHAT: Autotoys All HONDA Meet
WHEN: October 24, 2009 / 9AM-3PM
WHERE: Autotoys ( formerly Autobacs )
............12645 Beach Blvd.
............Stanton, CA 90680
As with any other meets, the same rules
apply. No revving, racing. No drama. No BS.
Thank you.